Hey Kids!
I just returned from a most EXCELLENT European vacation! A totally epic trip!
Checking my bags at the NYC airport, I look to my right and the long curly blond hair of Dee Snyder catches my eye-
Twisted Sister
were on my flight. Excellent!! Previously I made a strap for JJ French (gave it to him at a NYC signing) and so I ask Dee if he remembers me- and of course he thinks I'm nuts. But he comes to and replies "oh, yea... your the Strap Girl".... DOUBLE EXCELLENT!!!!
So I arrive in Denmark for Sweden Rocks Festival and drive to Sweden, set up camp with some Spanish friends (4 days of rock, metal, beer and camping!) PARTY TIME! I get some beers and find myself a few hours later watching
ZZ TOP
backstage, aside
Twisted Sister
. I look to my right and appears Lemmy Kilmister of
MOTORHEAD
. PARTY! Its freazing out and I'm visibly shaken so when I say hello to Lemmy he invites me to his trailer to warm up with a Jack n Coke (so hospitable! ha!). But before I can relax, I must introduce myself to
ZZ TOP
... I made custom ZZ 'Eliminator' straps for them and my mind is set to give them the straps personally. And, 5 minutes later I'm drinking beers with Dusty Hill. DOUBLE PARTY!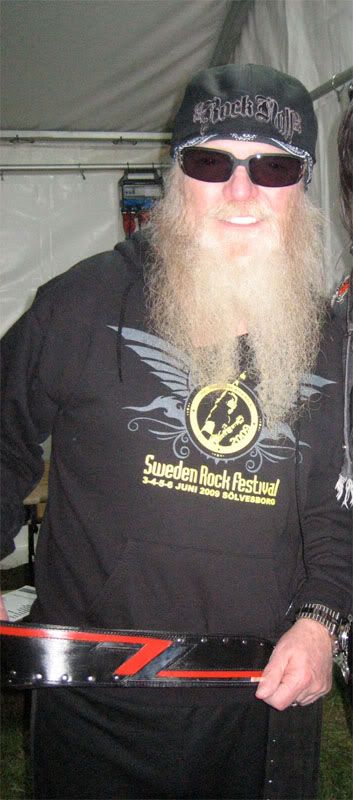 I took a photo with these guys just in case.... !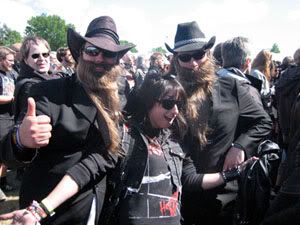 The next night
Motorhead
plays and Lemmy is off to the next venue early, well before the rest of the band. So I take his leftover hotel room and bring my friends with me. We settle into the room, I am about to take a shower when my friend announces
Dio
(HEAVEN AND HELL) is drinking in the downstairs bar. We run down (I'm suddenly VERY thirsty) and get TRASHED with Dio, the SABBATH crew and Phil Campbell, Mickey Dee of Motorhead & co! TOTALLY EPIC!!!
The next day
Heaven and Hell
played and, well, it wasn't their best show- that's for sure!
Then, off to Ibiza, Spain for a few days... followed by Barcelona for the weekend. A ton of new records, some savory food and drink, a city of amazing people. A great time, a total success! I'll be back next year!
Rock on!!!!!!
\m/
HEAVY LEATHER NYC
Http://www.HEAVYLEATHERNYC.com